New Email Delivery Report Now Available with Mailpost
We're always looking to improve the services we offer to our clients around the region and we are kicking off 2018 with more of the same. During January, our technical team has been working hard on a new release of our Mailpost product.
Sample Email Delivery Report: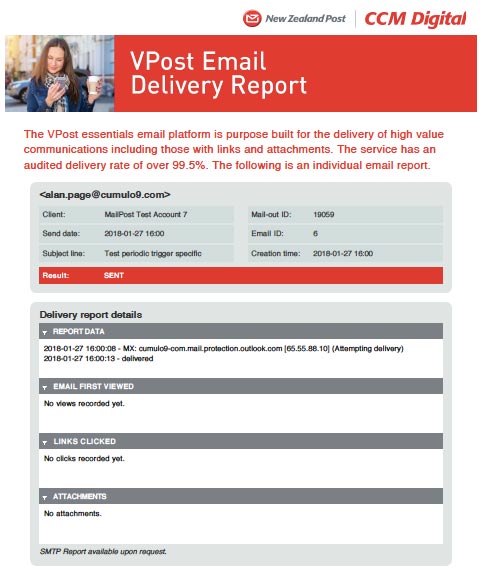 We get a lot of requests for information on whether particular recipients have received, opened, or clicked on your emails so we thought we'd make life easier for you. If you have access to the interface, from Friday 02 February you will have the ability to login and view the Email Delivery Report. On Friday, our new and improved Mailpost product is released and along with some "behind the scenes" improvements, the new Email Delivery Report will be available. This report contains all the data you need to analyse client opens and interactions with your emails including simple and easy to use tracking of the following:
Report Data
Email First Viewed
Links Clicked
Attachments
Our latest Mailpost release means that it will be even easier for you to ensure your communications are delivered, tracked and paid more efficiently. Along with the seamless delivery of your branded and personalised emails, the in-depth reporting that has always been available will now be enhanced with a new email delivery report. Helping to transform your digital communications.
If you would like access to this new feature or to chat with the team about Mailpost in general, please contact us at: support@cumulo9.com.
News is the first draft of history
Related news